The forgoten transport: Estonia
Film screening and a meeting with the director Lukas Pribyl
29/11/17 at 17:00
A tribute concert for pianists from Ghetto Theresienstadt
A tribute concert for pianists of  Terezin-
Edith Kraus, Alice Hertz-Sommer and Zuzana Růžičková 
Friday 17.11.17 at 10:00
Football People action week
FC Köln fans toured at Beit Terezin museum and met with Petr Lang, survivor of Ghetto Theresienstadt,
Within the #FootballPeople week and fight against anti-Semitism.
Lang gave his testimony on football activities in Ghetto Theresienstadt and touched the relevant values including racism, violence, human spirit and dealing with difficulty.
"We Are the silver platter on which the Jewish state was given"
26/9/2017 Multigenerational Trip
This is a story that has not been told to this day, the story of the thousands of Holocaust survivors who participated in the battles of the War of Independence and made a tremendous contribution to the war effort.
30,000 of the 60,000 combat soldiers at the end of the war belonged to "She'erith Hapleitah". 4 of the 12 heroes of Israel were Holocaust survivors. During the tour, we will tell the story and the contribution of the "Gahalitzim", as they were called, we will also explore the theme of "The myth of new immigrants in Latrun."
We shall also visit the new exhibition "We are the silver platter" in Beit Hapalmach museum.

Tour guide: Uriel Feinermann (Hebrew Tour!)
Date: 26 Sep. 2017
Time: 9:00
Meeting Place: Beit Theresienstadt
20/07/2017 Pianola - a tribute concert for pianists from Ghetto Theresienstadt
A tribute concert for pianists of  Terezin-
Edith Kraus, Alice Hertz-Sommer and Zuzana Růžičková 
Sunday 20.8.17 at 20:00
Wahk House Auditorium, Bussel House, 7 Jerusalem str. Tzfat.


The International Meeting and Annual Assembly of the Theresienstadt Martyrs Remembrance Association to be held at Beit Theresienstadt, Kibbutz Givat Hayim Ihud on Friday, May 20, 2017
"The testimony provided by the cinema screen"
TIMETABLE
09:00   Arrival and registration
            Get-together at the courtyard of Beit Theresienstadt
10:00   Opening Greetings
10:20   Nona choir
10:45   Annual Assembly
Election of chair and secretary of the assembly
Activities report for the last year
Financial report, acceptance of the report
Release of the board, election of new board
Election of auditor and determination of his fees
11:15   Alternative History? The Holocaust as seen on the cinema screen – Doctor Ella Bauer
12:00   Refreshments, Get-together, departure.
Participation fee: NIS 75.- per person, to cover expenses, including refreshments and program.
**If no quorum is present at the appointed time the assembly will be held 15 minutes later at the same venue and will be legal with any number of participants.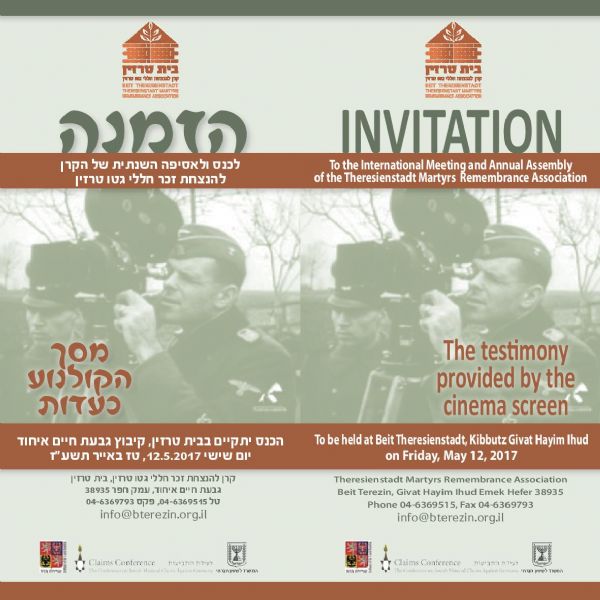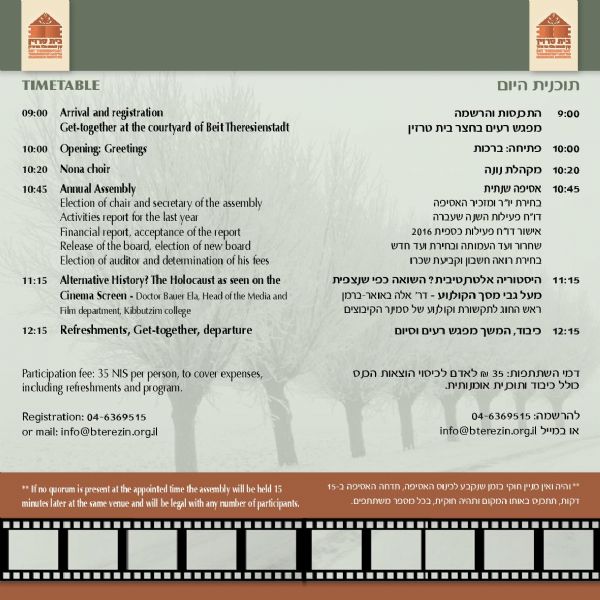 Holocaust Remembrance Day 2017, 24 April 2017 at Beit Terezin
To be held in collaboration with the soldiers from the Combat Fitness School, Policeman and volunteers of the Israel Police Traffic Department.
 
Date: 24/4/2017
Time: 9:45
Place: Beit Theresienstadt
20/04/2017 Many Faces of heroism, but one meaning of life" -"Terezin Diary"
An evening dedicated to Aliza Ehrmann Shek.
Documenting secretly the last few months of Theresinstadt Ghetto.
Date :20.4.2017
Time: 17:00
Place: Dan Tel Aviv Hotel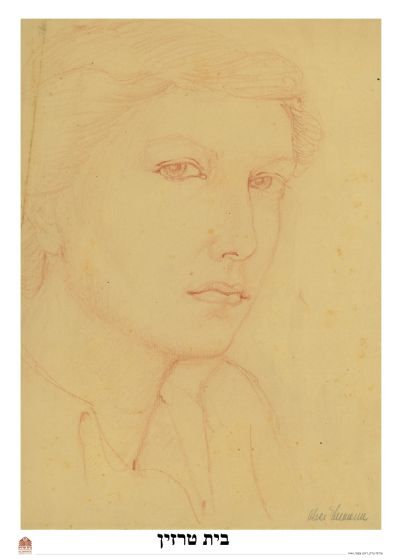 12/04/2017 Passover- Grandparents and grandchildren
Experiential workshop dealing with a family objects.
on April 12th 10:00 a.m. at Beit Theresienstadt
12/02/2017 Tu Bishvat planting
On Sunday, February 12 Holocaust survivors together with students from Shafririm school in Givat Haim Ihud, will plant new planting in the kibutz.
A ceremony will be held at 9:00am at Beit Theresienstadt.Representatives of "Beit El" community will distribute gifts to the survivors.
After the planting a music concert will be held at Ein Hahoresh auditorium, a contribution of Mr. Josef Zambuki.
08/02/2017 Visit of the youth groups of Borussia Dortmund and Maccabi Haifa at Beit Terezin
For some years already, there has been a very special relationship between Beit Terezin and various groups in the football industry in Germany, such as the German Football Association and fan organizations.
The Borussia Dortmund fans' organization is fighting against anti-Semitism and racism on the soccer fields, which is a very important issue for them, so they combined a visit to Beit Terezin in the short time they stayed in Israel.
Beit Terezin has been active for several years in the fieldof fighting violence and racism in soccer fields in Israel and Europe in educational programs for youth and young players.
During the visit to Beit Terezin, the Maccabi Haifa youth team joined the Borussia Dortmund team. The day before they had a match at the Sami Ofer stadium in Haifa.
The young soccer players met Vera Meisels and Zvi Cohen, survivors from Theresienstadt, visited the museum's exhibitions and heard what the meaning of a soccer game for the ghetto prisoners was, and how even in the impossible conditions of the ghetto they played, because the game helped the players and spectators to escape the reality around them and in a way to survive.
In order for soccer fans and actors to understand what racist and humanistic behavior means and where it can lead, it is important that they learn about the Holocaust period.
This is a token of honor to the Borussia Dortmund group and its organization of fans who see it necessary to mention and relate to the subject of the Holocaust in every visit to Israel.
25/01/2017 A Brown Folder – Homage to Felix Bloch Curator: Ruth Lubin
To be held in collaboration with On the occasion of International Holocaust Memorial Day, the exhibition "A Brown Folder"  will be held in the
Municipal gallery of Hadera.
 
Ruth Lubin: During my visit to "Beit Theresienstadt", my eyes were caught by a harrowing work of the artist Felix (Ferdinand) Bloch. The picture he drew in 1943, about a year before he was tortured to death, depicts daily life in the ghetto. Felix Bloch, a graphic designer by profession, described symbolically through an impressive sketching technique an episode of chaotic life that had taken place between the ghetto walls. What caught my attention to a great extent, and gave dramatic meaning to the whole picture was the format Felix Bloch has chosen for his work. This choice, of course, was not question of his preference but rather stemmed from complete lack of choices. Felix Bloch, who worked at the "Drawing Atelier" of the Technical Department in ghetto Theresienstadt, simply used an old brown cardboard folder, this was the only "paper" he had. In secret he sketched a visual text, silent testimony, depicting the horrors he had to go through in Theresienstadt. His drawings, later on, served as an evidence during the processes with the Nazis.

Many artists from Israel and abroad have paid, by their artistic expression, a tribute to Felix Bloch, the only thing they should respect was the basic material – brown cardboard folder. They created wonderful, impressive and very exciting exhibition full of memories and pains, that preserves the remembrance of this gifted artist, who used all his talent to perpetuate one day of his gruesome life he was forced to spend in ghetto Theresienstadt.
The techniques the artists used varied from print, photography, drawing, collage, readymade, etching, relief to working in oil and acrylic. By using such a variety they made the exhibition fascinating and arousing curiosity.

Felix Bloch created a valuable and rare document under the threat of genocide, horrible living conditions, chaos and tragedy without any glimpse of hope and knowing that seven decades after his tragic death his intimate work would be miraculously revealed to the wide public with the help of many artists from all around the world, the world that tries to repair itself.