Inter-Generational Hanukkah Event 1st January 2017
On Sunday 1st January 2017 at 4:30pm we shall meet in the dining room of Givat Haim Ihud.
4:30pm Arrival and get-together
5:00pm Greetings
5:15pm Launching 
"Terezin Diary"
 Alisa Ehrmann Shek; A Diary written in the last mounts of Theresienstadt Ghetto.

5:40pm
 "A Song that removes the darkness"
 – During a unique music seminar, young people, graduates of "Mekorock" wrote and composed original songs connecting the stories of the Bible and texts written in Theresienstadt Ghetto.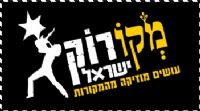 Evening dedicated to Shmuel (Jirika) Bloch "Accordion Performance"
The event will take place on Monday 12.19.16 at 6:30pm
in the Music Center of Zichron Ya'akov, 5 Hashira st. 
18:00 Commemoration Ceremony
18:30 Reception
19:00 Opening
"Kolot Maayan" choir
Klezmer band "sweeter than honey"       
Shmuel Bloch, stories and songs
Singing with Pavel Koren and his accordion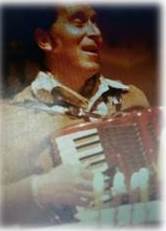 Launching of the book "Mouth Organ in Theresienstadt" on 29/01/2016 at 10 a.m. at Beit Terezin, Givat Chaim
Launching of the book "Mouth Organ in Theresienstadt" will take place on 29.1. at 10 a.m. at Beit Terezin, Givat Chaim

Tzvi Cohen was 12 years old when the Nazis knocked on the doors of his family flat in Berlin. He was alone at home, because his parents went to work for the Third Reich. The soldiers came to take the family to the concentration camp and Tzvi, then his name was Horst Cohn, suceeded to hold them in the flat for a couple of hours untill his parents came back by playing  on his mouth organ.

In the book "Mouth Organ in Theresienstadt" describes Tzvi Cohen his childhood in nazi Germany, the year he spent together with his parents in Theresienstadt and finally the liberation of the Camp and immigration to Israel.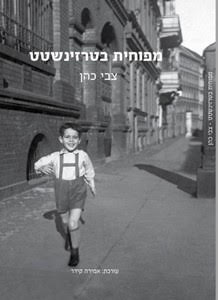 Concert marking the end of the semestrial Course "The music of Theresienstadt" at the University of Tel Aviv on 26/01/2016 at 19:30 at Trag Hall
On the occasion of International Holocaust Remembrance Day Beit Terezin in cooperation with Tel Aviv University, Department of Music, hold a Concert marking the end of the semestrial Course "The music of Theresienstadt".  The students will be playing pieces from the Ghetto written by Hans Krasa, Gideon Klein, Viktor Ullmann and Pavel Haas.

The lecturer of the Course, Dan Rapoport, is a Conductor, Clarinettist, University Teacher and Theoretist, Artistic Director of Venice Quadrivium Ensemble, Expert on music in Theresienstadt and italian baroque music, he performed Operas and Concerts at European historical sites like Auschwitz-Birkenau, Vivaldis' Church, Ghetto in Venice, Ghetto Theresienstadt and so on. Recently he gives lectures at Music Academy of Tel Aviv University, he has taught at Verona Conservatory and at the University of Bologna and Forli.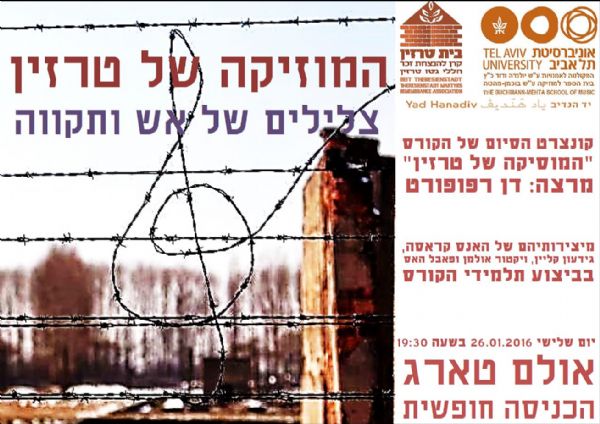 Event commemorating 100 years from the birth of Fredy Hirsch on Friday, 15th of April 2016 at 10:00 a.m. at Beit Terezin
If there is a will, everything is possible

Beit Terezin commemorates 100 years from the birth of Fredy Hirsch, gym teacher and youth leader in ghetto Theresienstadt and Auschwitz-Birkenau. The event will take place on Friday, 15th of April, 2016, at 10:00 a.m., in Beit Terezin, Givat Chajim Ichud. There will also be a memorial tournament in cooperation with "Mifalot: Sport for Education, Development and Peace".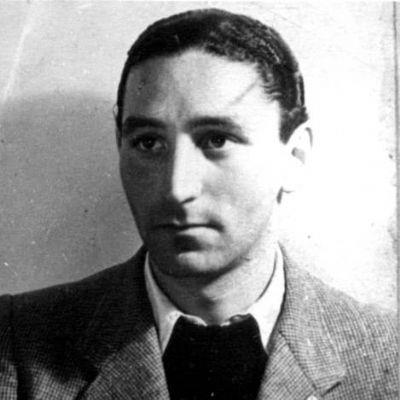 Fredy Hirsch was born on the 11th of February, 1916, in Aachen, Germany. As a young boy he joined youth movement "Maccabi hatzair" and he was excercising in Maccabi Sport Association. As the time went on he became a counselor in the same Association and even after he fled from Germany to Prague in 1935, he continued in his work with the youth. When he came to the ghetto, he was appointed deputy of the Department of youth care. He made all his efforts to keep the children and youth in very good physical and mental shape. To achieve this, he required absolute obedience, physical training and high hygienic precautions. In september 1943 he was sent to Auschwitz-Birkenau, there were the deportees from Theresienstadt concentrated in so called "Family camp". On his request the nazis allowed setting up a childrens barracks, where all 247 children from the camp could spend the day. Also here Fredy Hirsch dedicated himself to taking care of well-being and health of the children, he tried to improve their nutrition and protect them as fas as he could in horrible camp conditions. Shortly before 3792 inmates from the september transport were sent to gas chambers (8.3. 1944), Fredy was found dead in his barracks, what really happen there is still unclear.     

Programme:

 9:30   Assembling in Givat Chajim Ichud 
10:00  Blessings
10:10  "If there is a will, everything is possible", the portrait of Fredy Hirsch as a counselor and sportsman, an artistic programme
11:00   Memorial tournament
Holocaust Remembrance Day 2016, 5th of May, 2016, in Beit Terezin
"He taught me what is life", 100 years passed since Fredy Hirsch was born
 
Invitation
Beit Terezin is honored to invite you for the International Holocaust Remembrance day Ceremony organized in cooperation with soldiers and officers from the Military Academy for fighting skills, policemen and volunteers from the Department of Traffic. The event will take place on the 5th of May, 2016, in Beit Terezin, Givat Chajim Ichud, Emek Chefer.
Programme:
9:45      Assembling
10:00    Siren
10:05    Remembrance Ceremony
 
"]It is[ time of distress and bitter decisions. Time of separation, need, disappointments… the first year here is over and we have to ask ourselves, what we have done for a better feeling. We wanted to create home for our youth, a place, where they would be taken seriously, where they would be considered, a place, where they could stay young and they would not be attacked by daily tragic questions. We wanted to give them a nice feeling of home… in the middle of poverty."
  
 [Excerpt from the Report written by Fredy Hirsch, Beit Terezin Archive]
The 16th Annual Conference on Medicine in the Holocaust, Nahariya, 17th of May, 2016
Beit Theresienstadt is as usual taking part in the Annual Conference on Medicine in the Holocaust in Nahariya.

This year Tami Kinberg, general manager of Beit Theresienstadt, will speak about Care of the old people in Ghetto Theresienstadt in her paper called "Do not cast me away at the time of old age".
All the Congress is being held in Hebrew. Please confirm your participation on: 04-9107266 or via e-mail: ayak@gmc.gov.il
"Office File made of Brown Cardboard", tribute to Felix Bloch, 13. 5. 2016, Curator: Ruti Liubin
During my visit in Beit Theresienstadt, Museum that preserves the memory of martyrs from Ghetto Theresienstadt in Givat Haim Ihud, I was impressed by exciting work by an artist Felix (Ferdinand) Bloch from 1943. On brown Office File describes the artist the life in Ghetto. Felix Bloch, professional graphic designer, depicts in a symbolic way and impressive sketch technique chaos in between the walls of Ghetto. The thing which drew my attention, and to the great extent poured additonal dramatic meaning to the works of Felix Bloch, was the format the artist choose to immortalize his life. This choice was of course not his preference, but lack of any other option.

Felix Bloch, who worked in "Room of Painters", Technique Dpt. of Ghetto Theresienstadt, used old office file and secretly sketch the comedy of life played in Ghetto Theresienstadt in 1943, just one year before he was tortured to death. His pictures was later used as a testimony during the processes with Nazis.

Lots of artist both from Israel and abroad paid him homage by using office files for their works, like this they created exceptional, impressive and exciting display full of memories and pain which remebers this talented artist which succeeded to immortalize one day of hell in Ghetto Theresienstadt.

The artists used various techniques like print, photography, sketch, collage, ready made, etching, embossment, oil and acrylic colours, but all worked with office files, this made the display curious and exciting.    

Felix Bloch has created a painted document, visual testimony, with rare value, under conditions of genocide, in the midst of chaos, tragedy and monstrosity without any hope. Under these circumstances he even would not think that seventy year after his tragic death his intimate work would be praised by lots of artist from all around the world which is trying to heal itself.
 (Ruti Liubin)
The vernissage will take place on Friday, 13. 5. 2016, hebrew month of Iyar, at 12:00 in Water Institute The Municipal Gallery, Givataim
The International Meeting and Annual Assembly of the Theresienstadt Martyrs Remembrance Association to be held at Beit Theresienstadt, Kibbutz Givat Hayim Ihud on Friday, May 20, 2016 – Iyar 12, 5776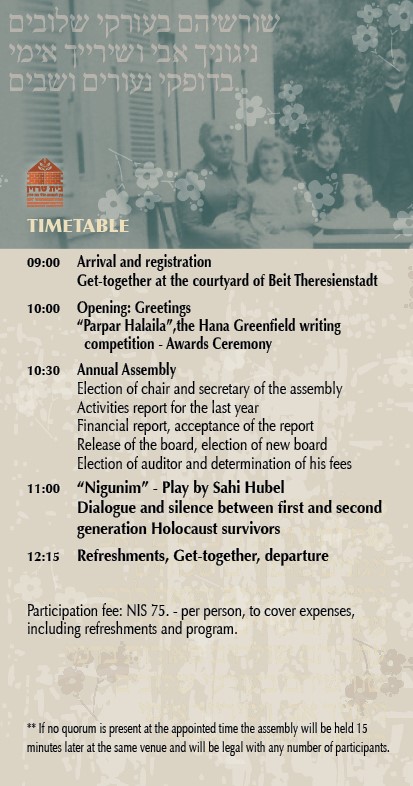 "Rina, I love the Sky", Cabaret and Popular Music from Ghetto Theresienstadt Monday, 23.5.2016 20:00 at the National Library of Israel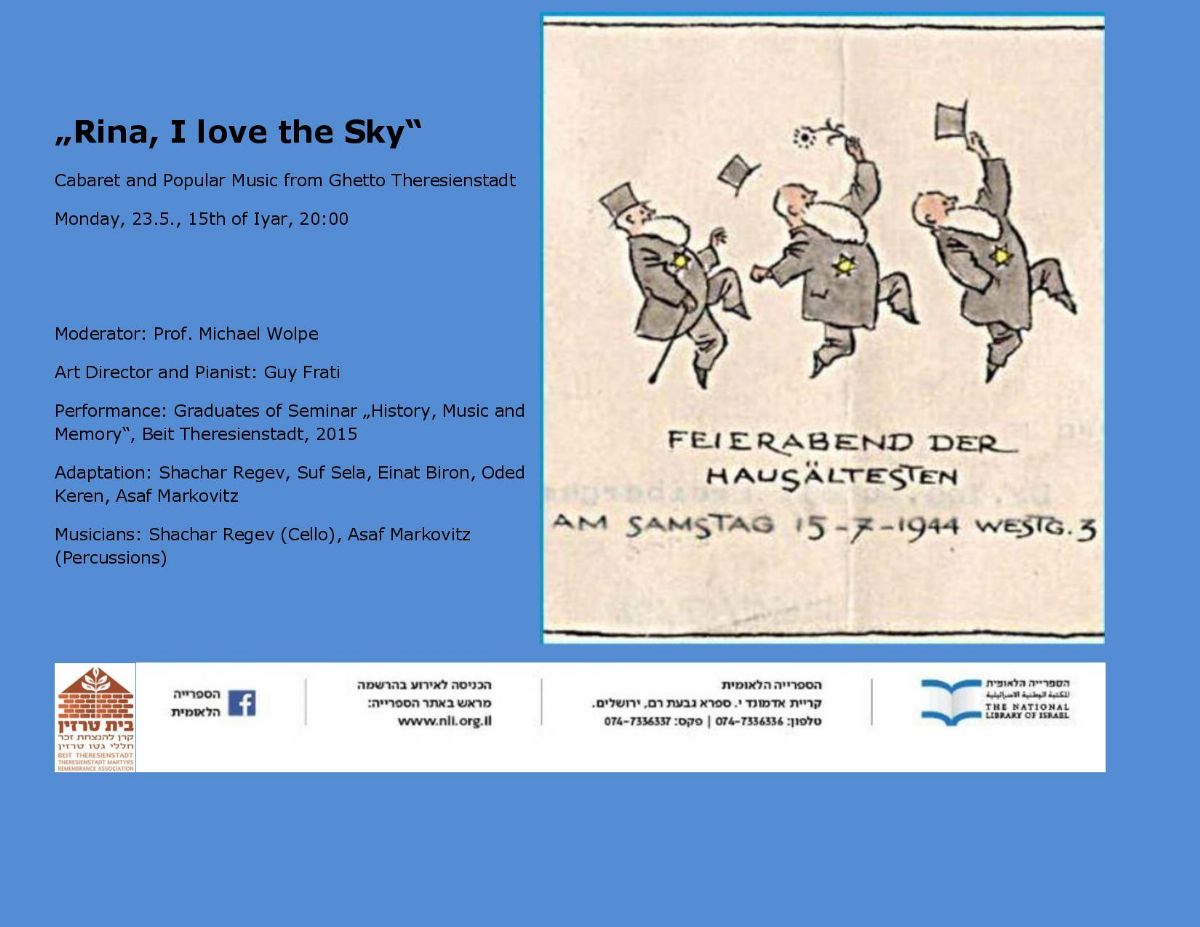 Concert on the occasion of 75 years to the establishment of Ghetto Theresienstadt on Wednesday November 30, 2016 at 17:00 at the Czech Embassy, Tel Aviv
INVITATION
"SOUNDS OF HOPE"
concert on the occasion of 75 years to the establishment of Ghetto Theresienstadt and in honor of the survivors of the Ghetto which dedicate their lives to commemorate the spiritual heritage of its inmates at Beit Theresienstadt.
In participation of:
Ambassador of the Czech Republic Ing. Bc. Ivo Schwarz
MP Dr. Aliza Lavie
The concert takes place on Wednesday November 30, 2016 at 17:00
at the Czech Embassy, Zeitlin Street 23, Tel Aviv
Programm:
Greetings
"Judaism in the Czech Republic, then and today" – MP Dr. Aliza Lavie
Concert from creations from Theresienstadt – Dan Rapaport
Appreciation for the Survivors of the Ghetto
Seats for the concert are limited  – R.S.V.P
60th Anniversary of the Death of Rabbi Dr. Leo Baeck
Leo Baeck Institute Jerusalem
together 
with  
Beit Terezin and Association of Israelis of Central European Origin invites you to the event: 
"Liberal Judaism Then and now"
The event will take place on Thursday 12.22.16 at 7pm in "The Jerusalem Institute for Israel Studies"
20th Radak St., Jerusalem:
Opening
Panel: Liberal Judaism Then and now
"Rabbi Dr. Leo Baeck in Theresienstadt Ghetto"
 – Dr. Margalit Shlain
Music
:" Cabaret and popular music from Theresienstadt"
 – performed by participants of "History, Music and Memory" 2015 seminar of Beit-Terezin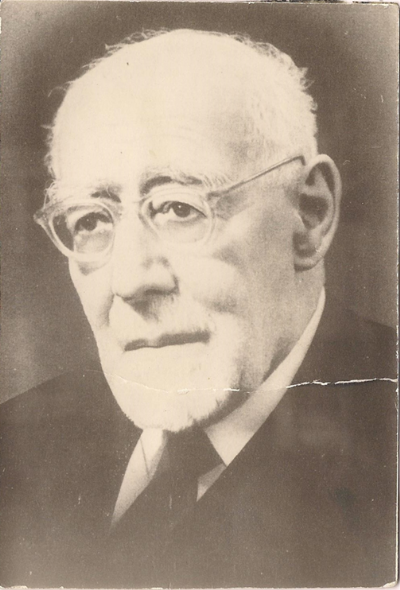 Rabbi Dr. Leo Baeck
Yad Vashem photo collection